May Swimmer of the Month: Duncan Scott
Who is Duncan Scott?
Duncan Scott is a British and Scottish swimmer specializing in butterfly, freestyle, and medley events. Duncan swims for University of Stirling and has represented Great Britain at the FINA World Championships and Olympic Games, and Scotland at the Commonwealth Games.
Duncan was the most decorated British swimmer at the 2015 European Games and was named Swimmer of the Year at the 2018 British Swimming Awards. At the 2019 British Championships, Duncan broke his own British record in the 100m freestyle.
He also holds the Scottish records in the 100m and 200m freestyle (LC and SC), 100m butterfly (LC), 200m butterfly (SC), 100m IM (SC), and 200m IM (LC)
Duncan's Claim to Fame
Duncan first came onto the international swimming stage in 2013, and has since been a constant presence at the podium, setting multiple national records along the way. Some of his international wins include:
2018 European Championships - 3 golds (200 free, 800 free relay, 400 medley relay) and 1 silver (100 free)

2018 Commonwealth Games - 1 gold (100 free), 1 silver (200 IM), and 4 bronze (200 free, 200 fly, 400 free relay, and 800 free relay)

2017 World Championships - 1 gold (800 free relay), and 1 silver (400 medley relay)

2016 Olympic Games - 2 silver (400 medley relay, 800 free relay)

2015 World Championships - 1 gold (800 free relay)

2014 Commonwealth Games - 1 silver (800 free relay)
Duncan's Metrics
We analyzed Duncan's 100m freestyle metrics from the 2017 FINA World Championships and 2018 Commonwealth Games to compare his metrics between the 2 competitions and the impacts they made to his overall performance.
Stroking Metrics
Speed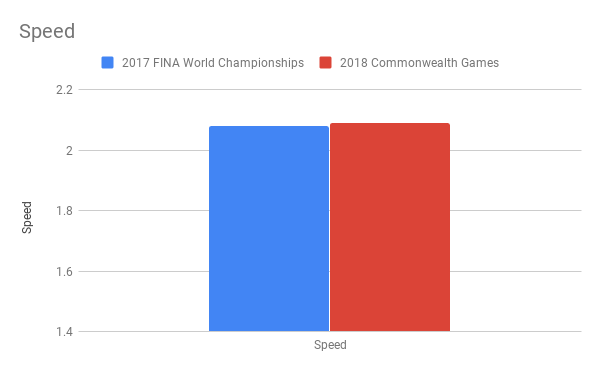 Duncan swam a faster 100 free at the 2018 Commonwealth Games than the 2017 FINA World Championships. Though he started at a slightly slower speed, he was able to better maintain his speed through to the end. In 2018, he minimized the drop in his speed after the turn, swimming a faster 2nd 50 to finish 0.58 seconds faster than he did in 2017 and winning gold.
Stroke rate and DPS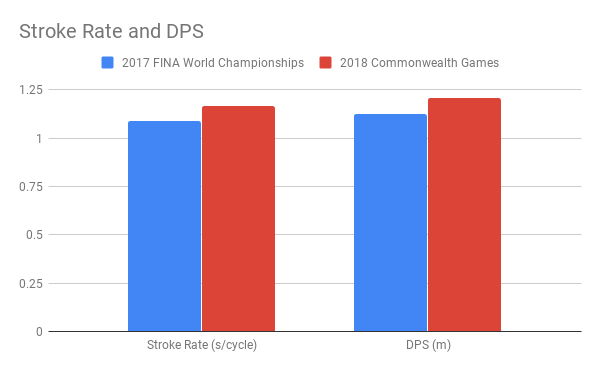 Duncan generally produced shorter and faster strokes compared to his heat in both races. In 2017, he had one of the fastest stroke rates and lowest DPS in the heat. In 2018, he slowed down his stroke rate and lengthened his DPS, taking 5 strokes less than he did in 2017.
Stroke Index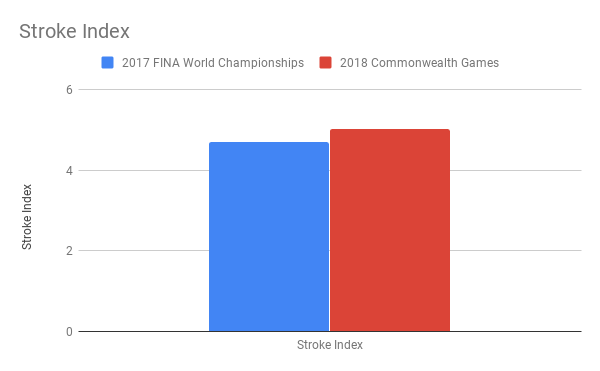 Duncan swam a more efficient freestyle in 2018 than in 2017. He swam at a faster speed with his longer DPS, which translated into a significant increase in his stroke index.
Transition Metrics
Turn Time and Time Underwater

Duncan improved his turn time by a tenth of a second in 2018. In 2017, he had one of the slowest turns, but in 2018, he had the second fastest turn time.
In 2018, Duncan spent slightly longer on his underwater. Overall, his time underwater in both races was longer than the average of his heats.
Takeaways
Better stroke efficiency makes for stronger finishes
Duncan swam more efficiently from the start of the 100 free in 2018. Though he swam slower in the 1st half, his higher efficiency enabled him to better power through after the turn and finish faster.
A fast stroke rate wins races when paired with optimal DPS
Though Duncan produced slower strokes in 2018, his stoke rate was still faster than average. He supplemented this with longer strokes, and found a better balance between his stroke rate and DPS, maximizing his speed, improving his time, and winning the race.