March Swimmer of the Month: Mallory Comerford
Who is Mallory Comerford?
Mallory Comerford is an American freestyler who has represented team USA at the 2017 FINA World Championships, 2018 Pan Pacific Championships, and 2018 Short Course World Championships. She set a US Open national record in the 100m free at the 2017 US World Championship Trials, and a US national record in her leadoff leg in the 4x100 free relay at the 2017 World Championships.
She is also a senior at University of Louisville and was recently awarded ACC's Swimmer of the Meet for the 2nd year in a row.
Mallory's Claim to Fame
Mallory has had successful seasons swimming for University of Louisville since 2015, winning multiple medals in her events. At the 2017 NCAA Div 1, she tied with Katie Ledecky in the 200y free. Mallory has also won multiple international medals, individually and as part of US relay teams. Some of her international wins include:
2018 Pan Pacific Championships (400 free relay)

2018 Short Course World Championships - 5 golds (200 and 400 free relay, 200 and 400 medley relay, 200 mixed free relay), 1 silver (200 free), 1 bronze (100 free)

2017 World Championships - 2 golds (400 and 800 free relay)
Mallory's Metrics
We analyzed Mallory's metrics in the 100y and 200y freestyle at the 2017 NCAA Division 1 Championships to look at how her metrics compared to her competitors and learn from her strategies in these 2 events.
Stroking Metrics
Speed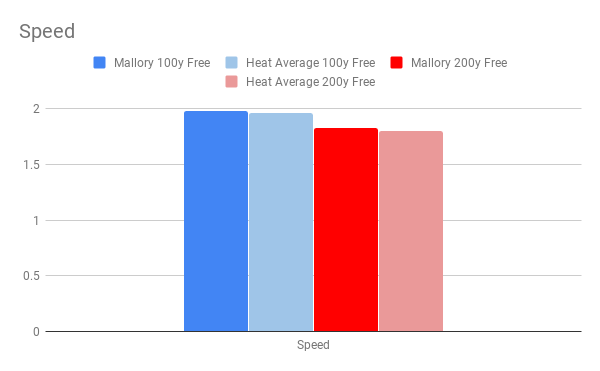 Mallory's overall speed was above the average speed of her heat in both the 100y and 200y free.
In the 200y free, her speed remained fairly consistent on every lap after the first 25y. There was minimal difference in her splits from lap to lap, before increasing her speed on the last lap. Her speed in the 100y free was slightly less consistent, once again finishing the race with a big increase in her speed on the final lap.
Stroke rate and DPS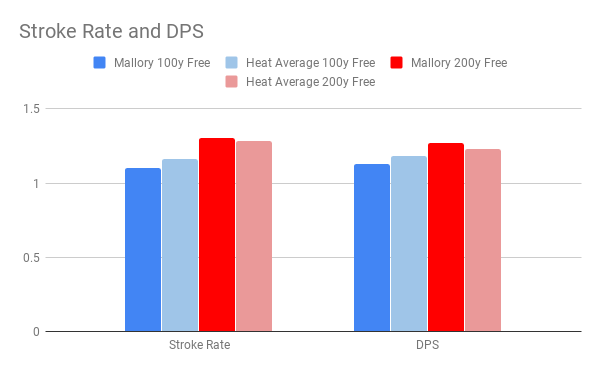 Mallory raced her 100y and 200y differently. In the 100y, she went for shorter and faster strokes, producing one of the fastest stroke rates in her heat, with one of the lowest DPS.
In the 200y, she produced longer strokes at a slower rate. Her DPS was higher than average, and she had one of the slowest stroke rates in her heat.
Stroke Index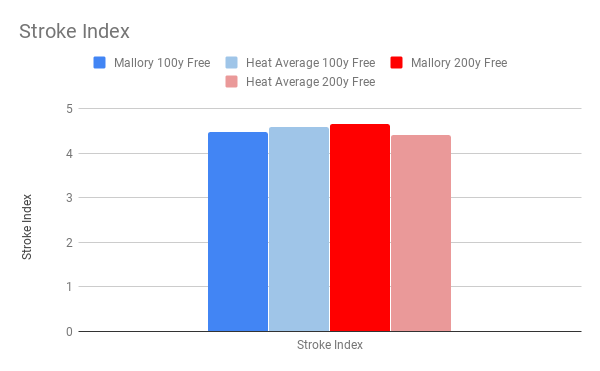 Mallory had one of the least efficient freestyles in the 100y, with her stroke index falling below heat average. Conversely, in the 200y, she had one of the most efficient freestyles. Her high DPS, combined with her fast speed, translated into a high stroke index in the 200y.
Transition Metrics
Turn Time and Time Underwater

In both races, Mallory had a slightly slower turn time than the average of her heat.
On average, she spent just slightly longer in her underwater in the 100y than she did in the 200y. But compared to her competitors, her time underwater was shorter than average in the 100y and longer than average in the 200y.
Takeaways
Racing differently between different strokes can be a great tactic.
Mallory had opposite strategies in the 100y and 200y. In the 100y, she went for a fast stroke rate, and stroked faster than most of her heat. In the 200y, she went for a high DPS, and produced more distance per stroke than most of her competitors. Both strategies worked well for her in each race, placing bronze in the 100y and tying for gold in the 200y.
Shorter races typically lean towards a fast stroke rate, while longer distances typically lean towards higher DPS and stroke index.
While this does not apply universally, Mallory's strategy of fast strokes in the 100y, and longer strokes in the 200y, is the same trend we see looking at the average of the heats. Overall, the swimmers in the 100y were stroking faster with lower DPS, while stroking slower and more efficiently in the 200y.