June Swimmer of the Month: Olivia Smoliga
Who is Olivia Smoliga?
Olivia Smoliga is an American freestyle and backstroke specialist. She attended, and competed for University of Georgia and has represented team USA in multiple major competitions, including the World Championships, Pan American Games, and the Olympic Games.
Olivia currently holds the American record in the 50m back (long course), as well as the 50m and 100m back (short course).
Olivia's Claim to Fame
Olivia has been competing in the international stage since the 2011 FINA World Jr. Championships. Some of her recent international wins include:
2016 Olympic Games - 1 gold (400 medley relay)

2017 World Championships - 2 golds (400 freestyle and medley relay)

2018 Short Course World Championships - 8 golds (50 and 100 back, 200 and 400 freestyle relay, 200 and 400 medley relay, 200 mixed free relay, 200 mixed free and mixed medley relay)
Olivia's Metrics
We analyzed Olivia's 100m backstroke metrics from the 2016 US Olympic Trials, 2016 Rio Olympics, and 2017 FINA World Championships, to compare her metrics across the 3 competitions and learn how they impacted her overall performance.
Stroking Metrics
Speed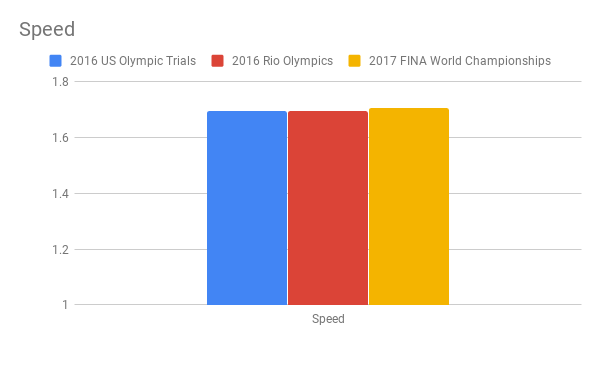 Olivia's average 100m back speed between the 2016 US Trials and 2016 Olympics were identical, but she split her 50s differently. At the Trials, she had a faster start, slowing down more in the back half. At the Olympics, she started slightly slower, but maintained more even splits with a faster 2nd 50. Overall, she dropped her time by 0.07s at the Olympics.
Her pacing strategy at the 2017 FINA Championships was similar to the 2016 Trials, where she swam her 1st 50 even faster, generating higher speed and a faster time overall.
Stroke rate and DPS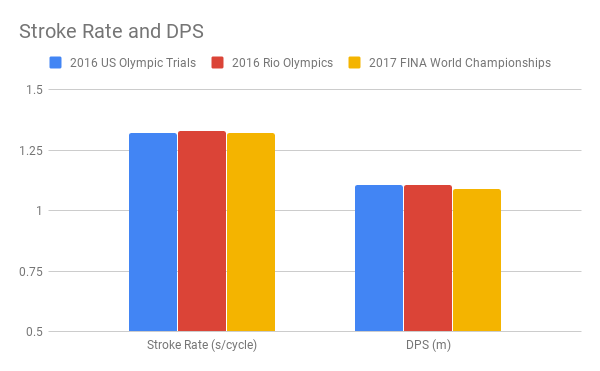 Olivia's stroke count was consistent between the 2 laps of the 100, only adding 1 extra stroke on the second half of the race. She also had the same stroke count per lap across the 3 competitions.
Her stroke rate and DPS were also nearly identical in all 3 competitions, with a small drop in her DPS in 2017. Overall, she produced slightly slower and longer strokes compared to the average of her competitors in all 3 races.
Stroke Index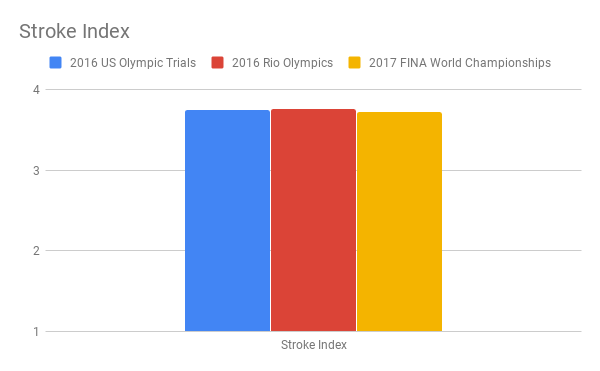 Though she swam the fastest speed in 2017, Olivia's stroke index dropped slightly in that race. Compared to the rest of her heat, her stroke index was higher than the average, and she had one of the most efficient backstrokes across the 3 competitions
Transition Metrics
Turn Time and Time Underwater

While majority of her stroking metrics were fairly similar from one race to the next, her turn time saw larger differences.
In all 3 races, she turned slower than most of her competitors. But, she improved her turn time from the 2016 US Trials, and had her fastest turn at the 2016 Olympics.
Olivia spent the same amount of time underwater at the 2016 Trials and 2016 Olympics, but lengthened her time underwater by 0.23s in 2017. Compared to her competitors, she had one of the lengthiest times underwater, and was one of the very few who spent longer underwater off the walls than the blocks.
Takeaways
Turns should never be neglected - faster turns lead to faster times.
Olivia stroked in almost the exact same way across all 3 competitions, but her faster turns compared to the Trials helped her shave time off her 100 back at the 2016 Olympics and 2017 FINA Championships.
Small improvements add up, eventually leading to incredible wins.
After the 2017 FINA Championships, Olivia dominated the 2018 SC World Championships. According to a Chicago Tribune article, she credits her success to her focusing on daily improvements and trusting the process. She won 8 gold medals and set an American record in this competition.