June Swimmer of the Month: Chase Kalisz
Who is Chase Kalisz?
Chase Kalisz is a 24 year old American Olympic swimmer who specializes in IM, but also swims breaststroke and butterfly races. Chase swam with the University of Georgia, and was their first male swimmer to win an Olympic medal. He also trained under legendary Coach Bob Bowman with good friend, mentor, and fellow North Baltimore Aquatic Club member, Michael Phelps.
Chase has been competing, and winning, in international meets since 2013.
Claim to Fame
Chase Kalisz has had many accomplishments throughout his swimming career. From breaking records at the NCAA to winning international medals, Chase is still continuously rising in his career. His international wins include:
2017 FINA World Championships: 2 gold (200m and 400m IM)

2016 Rio Olympics: 1 silver (400m IM)

2015 World Championships: 1 bronze (400m IM)

2014 Pan Pacific Championships: 1 bronze (400m IM)

2013 World Championships: 1 silver (400m IM)
Additionally, Chase was crowned the king of IMs at the 2017 Winter National Championships where he clinched the gold in both the 200m and 400m races.
Chase's Metrics
We looked at Chase's metrics in the 200m IM at the 2017 FINA World Championships in Budapest and compared them against his metrics from the same event at 2018 TYR Pro Swim Series in Indianapolis to gain a few insights from his performance.
Stroking Metrics
Speed

Fly: In 2017, he swam with a moderate amount of speed, falling right at mid-range compared to the rest of the heat. His fly was slightly slower in 2018, but generated the fastest speed in the heat.
Back: In 2017, the backstroke leg was where he started to gain more ground, almost keeping pace with the fastest backstroker of the race. Though his speed decreased in 2018, he split at least almost a full second ahead of the field.
Breast: In 2017, Chase's speed on this lap gave him the lead, splitting at least half a second faster than the rest of the field. In 2018, his breaststroke speed widened his lead even further.
Free: In 2017, he swam the final leg with a relatively slow speed, though the difference was slight, his freestyle speed fell on the lower end of the range. He maintained almost the same speed in 2018, falling around the heat average on this race.
DPS, Stroke Rate, and Stroke Count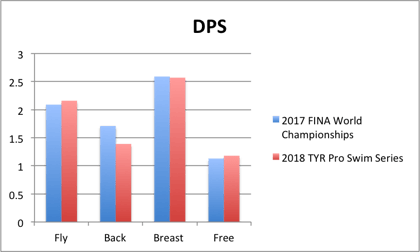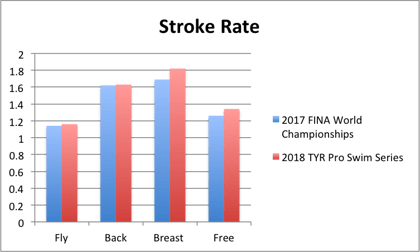 Fly: In 2017, he had the second lowest DPS in the heat, but had a relatively fast stroke rate. This contributed to his higher than average stroke count (18 strokes). He took the same number of strokes in 2018, but pulled a higher DPS at a slightly slower stroke rate.
Back: Unlike his fly, Chase produced one of the highest DPS at a slower stroke rate, keeping his stroke count at 29, the lowest for this leg in 2017. His DPS dropped in 2018 and kept almost the same stroke rate, which would explain the 1 extra stroke he had to take.
Breast: In both years, he had one of the longest and fewest strokes, with a moderately slow stroke rate in 2017, which was even slower in 2018.
Free: His DPS, stroke rate, and stroke count were right around the average in both meets. He increased his DPS and lowered his stroke rate and count slightly in 2018.
Stroke Index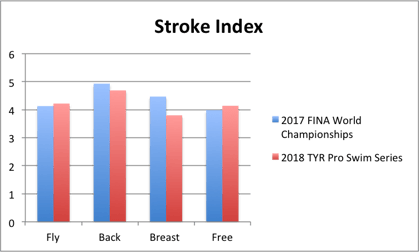 Fly: His low DPS in 2017 meant he had one of the least efficient strokes, registering the second lowest stroke index. With the improvement of his DPS in 2018, his stroke index also saw an increase.
Back: Though he didn't swim at the fastest speed in 2017, he had the most efficient backstroke. He continued to have the highest stroke index in 2018.
Breast: He produced the second most efficient breaststroke in 2017. His stroke index saw a decline in 2018, but was still the most efficient relative to his competitors.
Free: His stroke efficiency fell around mid range for both years, but his freestyle was more efficient in 2018.
Transitions
Time Underwater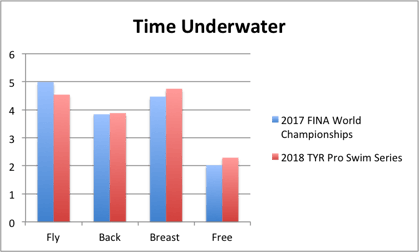 Fly: In 2017, he spent 4.99 seconds underwater, which is almost half a second longer than he did in 2018.
Back: In 2017, his time underwater was well below average, spending almost a full second less than his competitors' average time. He had a near identical time underwater in 2018.
Breast: His time underwater fell in the lower end of the range in 2017, and he spent slightly longer on his underwater in 2018.
Free: Unlike the first 3 laps, he spent a relatively good amount of time underwater in 2017. He broke out earlier in 2018.
Takeaways
It's not always about having the highest DPS or the fastest stroke rate.
In 2017, Chase's individual metrics were rarely, if ever, the most impressive compared to his competitors. But, he found the right combination of speed, power, and efficiency that played to his strengths, which was all the advantage he needed.
There is no universal race strategy – not even within individual athletes
An athlete can have different strategies for different strokes, and find success in each one. In some strokes, Chase slowed his strokes and went for efficiency, in others, he sacrificed DPS to pull at a faster rate.
If you find a strategy that works for a given event, stick with it
Though his strategy between strokes varied, a comparison of his 2 races taken as a whole showed the same pattern between his metrics. His strategy clearly works for him, given he won both races by a fairly large margin.