July Swimmer of the Month: Sydney Pickrem
Who is Syndey Pickrem?
Sydney Pickrem is a Canadian Olympic swimmer specializing in IM events. She has represented Canada in major international competitions such as the Pan Pacific Championships, Commonwealth Games World Championships, and more. She has also won medals for her college, Texas A&M, at the NCAAs.
At the 2019 FINA Champions Swim Series, Sydney broke her own national record in the 200m IM.
Sydney's Claim to Fame
Sydney started competing for Canada as a junior swimmer at the 2012 Jr Pan Pacific Championships, made senior national team in 2014, and has since continued to be a prominent player in the international swimming stage.
Some of her international wins include:
2013 FINA World Jr Championships - 1 Bronze (200 IM)

2015 Pan Am Games - 1 bronze (200 IM) and 1 silver (400 IM)

2017 World Championships - 1 bronze (400 IM)

2018 Pan Pacific Championships - 1 silver (200 IM)
Sydney's Metrics
We analyzed Sydney's 200y IM metrics from the 2017 and 2018 NCAA Championships to see how her metrics changed over time and how these changes impacted her overall performance.
Stroking Metrics
Speed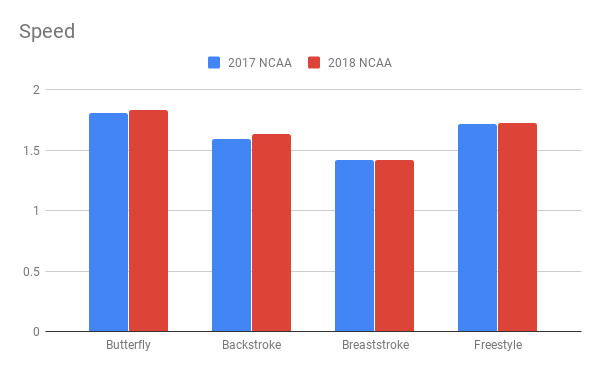 At the 2018 NCAA, Sydney swam every stroke except for breaststroke at a faster speed compared the the previous year. Her backstroke saw the most improvement, while her breaststroke was just two hundredths of a second slower.
Overall, she swam a faster 200 IM in 2018, dropping her final time by almost a full second and moving up to earn a spot at the podium.
Stroke rate and DPS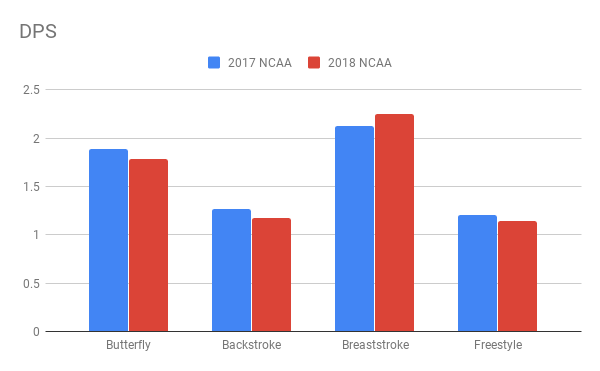 In 2018, Sydney lowered her DPS and increased her stroke rate in butterfly, backstroke, and freestyle compared to 2017. In breaststroke, she lengthened her DPS and slowed down her stroke rate.
On average, compared to her competitors, Sydney produced higher DPS at a slower stroke rate across all strokes.
Stroke Index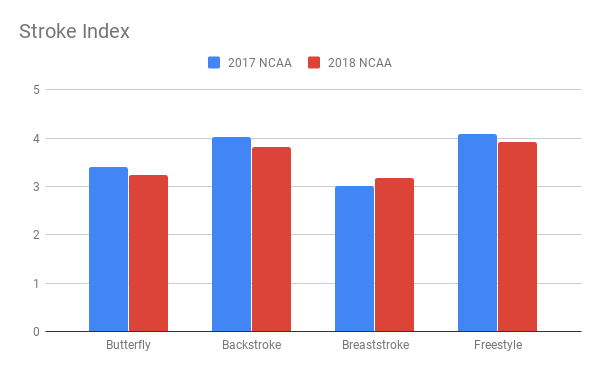 The drop in Sydney's DPS in butterfly, backstroke, and freestyle. translated into lower stroke index (i.e. lower efficiency) in 2018. Conversely, her breaststroke efficiency increased with the increase in her breaststroke DPS.
On average, Sydney swam a more efficient IM than her competitors in both years.
Transition Metrics
Turn Time and Time Underwater

Overall, Sydney improved her turn times at the 2018 NCAA.
She also lengthened her time underwater across all 4 strokes. On average, she spent less time underwater than her competitors in both 2017 and 2018.
Takeaways
Better efficiency doesn't necessarily mean faster speed.
In 2018, Sydney's stroke index decreased in fly, back, and free. Interestingly, these were the legs of the IM where she swam faster than she did previously.
Every improvement counts towards better results.
Sydney didn't swim every lap of the 200 faster in 2018, and she increased her speed more in some strokes than others. But these improvements, combined with quicker turns resulted in a faster time and a podium finish.