January Swimmer of the Month: Kylie Masse
Who is Kylie Masse?
Kylie Masse is a competitive swimmer who specializes in backstroke and is a multiple record holder from Canada. She became Canada's first female swimmer to win a world title when she broke the 100m backstroke world record at the 2017 World Championships.
During her time swimming for the University of Toronto's varsity team, she received a long list of awards, such as U of T's female rookie of the year, female athlete of the year, and OUA's swimmer and rookie of the year.
In 2018, Kylie earned Swimming Canada's Female Swimmer of the Year award for the second year in a row.
Check out how Kylie Masse is using TritonWear to help her reclaim her world record in this segment of Sportsnet's The Science of Sport
Kylie's Claim to Fame
Kylie's numerous awards are well earned titles given the impressive list of accomplishments under her belt. Some of her international medals include:
2015 Summer Universiade - 1 gold (100 back)

2016 Rio Olympics - 1 bronze (100 back)

2016 FINA Short Course Championships - 2 silvers (100 back and 4x10 medley relay)

2017 FINA World Championships - 1 gold (100 back)

2018 Commonwealth Games - 2 gold (100 and 200 back)

2018 Pan Pacific Championships - 1 gold (100 back)
Kylie holds national records in all the long course backstroke events and short course 50 and 100m backstroke, as well as in long course 4x100 medley and 4x100 mixed medley, short course 4x50 medley and 4x100 medley, as part of Canada's relay teams.
Kylie's Metrics
We analyzed Kylie's 100m backstroke metrics from the 2016 Rio Olympic Games, 2017 FINA World Championships, and 2018 Commonwealth Games, to see how her metrics changed over time, understand the impacts they made on her overall performance, and learn the strategies she used.
Stroking Metrics
Speed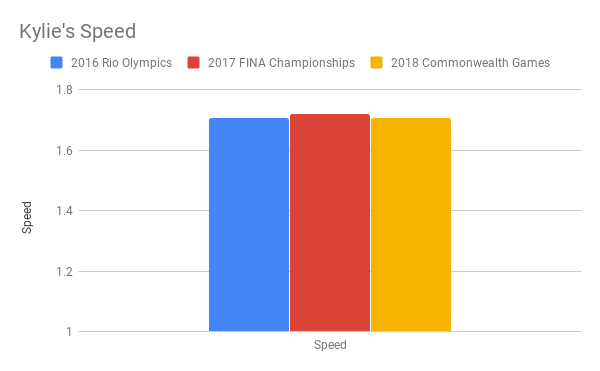 Across the 3 competitions, Kylie swam her fastest backstroke at the 2017 FINA Championships. Between 2016 and 2017, she split her first 50 at nearly identical speeds, but she finished with a faster 2nd 50 in 2017, and lowered her overall time by over half a second.
In 2018, she started the race at a faster speed, but came back slower than she did in 2016 and 2017. Overall, her average backstroke speed in 2016 and 2018 were close, with a faster final time in 2018, and her 2017 speed was unmatched, which isn't surprising considering she set a world record with that performance.
Stroke rate and DPS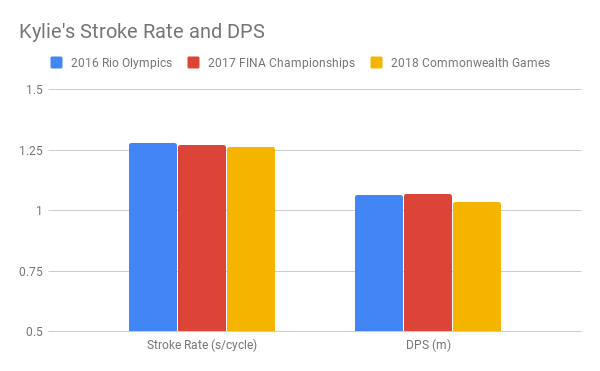 Kylie's overall stroke rate remained nearly the same across the 3 competitions, with just a slight increase from 1 year to the next. The main change in her stroke rate was on the back half of the 2018 race. In 2016 and 2017, she had a fairly consistent stroke rate from lap to lap, but in 2018, she stroked faster in the first 50, but the decrease in her stroke rate on the 2nd lap was relatively more significant.
Her DPS followed an identical pattern. In 2016 and 2017, her DPS dropped from the 1st to the 2nd lap. In 2018, she produced lower DPS on the first 50 but increased this on the second half.
Overall, her average DPS was at its highest in 2017, with an average stroke rate that fell between her stroke rate in 2016 and 2018.
Stroke Index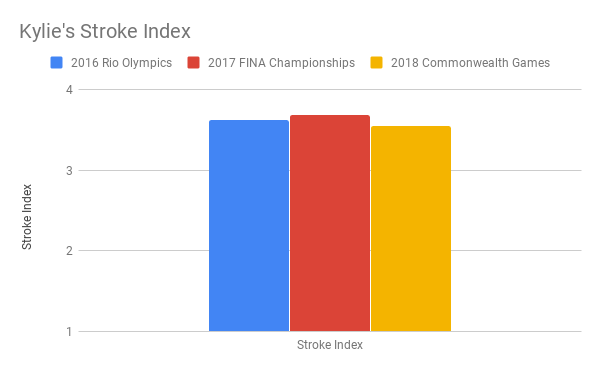 Kylie swam her most efficient backstroke in 2017. Her high DPS and fast speed at the World Championships translated into a high stroke index.
Transition Metrics
Turn Time and Time Underwater

In 2017, Kylie had the fastest turn time and shortest time underwater - across the 3 competitions, and in her heat.
Takeaways
There is typically at least a slight compromise between stroke rate and DPS, but if you're able to maintain a fast stroke rate and a high DPS at the same time, you will generate great speed.
Kylie swam her fastest at the 2017 FINA World Championships. At that competition, her stroke rate was faster and DPS was higher compared to her metrics at the 2016 Olympics. And while she stroked faster at the 2018 Commonwealth Games, she wasn't quite able to produce the same amount of DPS.
Start strong, finish stronger.
Kylie wasn't first to reach the halfway point at the 2017 World Championships and 2018 Commonwealth Games. She wasn't too far behind either (3rd and 2nd respectively), but in both races, she had the fastest second lap split; She won gold and broke records at both competitions.