April Swimmer of the Month: Louise Hansson
Who is Louise Hansson?
Louise Hansson is a competitive swimmer who is currently serving as a junior co-captain at the University of Southern California. She represented her home country of Sweden in the 2016 summer Olympics in Rio di Janeiro where she helped her team finish 5th in both the 100m and 200m freestyle relay.
She currently holds the NCAA record for the 100y fly and NCAA titles in the 100y and 200y fly.
Louise's Claim to Fame
Louise sports an impressive resume of accomplishments and records at just 22-years-old. Some of her international medals and accomplishments include:
2012 European Championships – 1 silver (4x100m freestyle)

2014 European Championships – 1 gold (4x100m freestyle), 2 silvers (4x200m freestyle, 4x100m medley)

2014 FINA Championships – 1 silver (4x200m freestyle)

2016 Rio Olympics – 5th place in 100m and 200m freestyle relay
She has also been a prominent player at the NCAAs since she started at USC 3 years ago. Her NCAA wins include:
2017 NCAA Championships – 3 bronzes (100y fly, 200y IM, 100y IM)

2018 NCAA Championships – 1 gold (100y fly), 1 bronze (200y fly)

2019 NCAA Championships – 2 gold (100y fly, 200y fly)
Louise also holds numerous USC records which include: 50-yard free (21.69), 100-yard free (47.03), 200-yard free (1:41.81), 500-yard free (4:49.42), 100-yard fly (49.80), 200-yard fly (1:51.3), 200-yard IM (1:53.72), 100-yard back (51.43)
Louise's Metrics
We analyzed Louise's 200y butterfly metrics from the 2018 NCAA and 2019 NCAA Div 1 Championships to look at how her metrics changed over time, and how these changes impacted her overall performance.
Stroking Metrics
Speed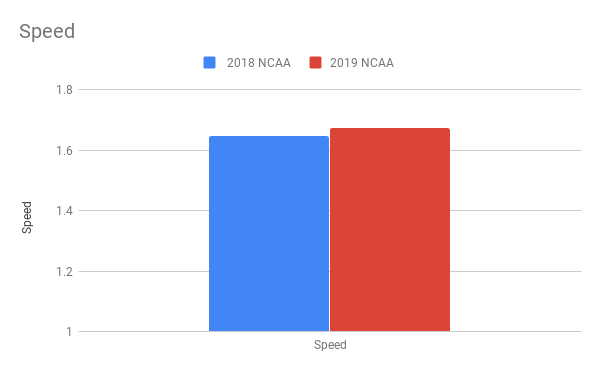 Louise's 200y fly speed saw a great improvement from 2018 to 2019. Though she started off slightly slower this year, clocking in her 1st 25 almost two tenths of a second behind last year's split, she quickly made up for it after the first turn. She then continued to swim every lap at a faster speed than she did in 2018.
Overall, with her increased speed in 2019, she dropped her time by almost 2 full seconds, bumping her up from 3rd place last year, to 1st this year.
Stroke rate and DPS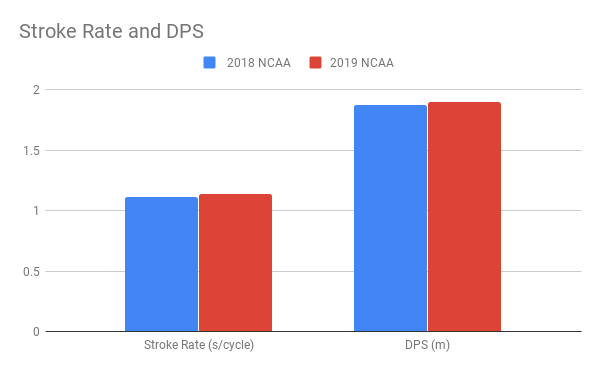 On average, Louise stroked at a higher DPS and slower stroke rate in 2019 than in 2018. In 2019, she was able to better maintain the length of her strokes on the back half of the race, taking fewer strokes without significantly dropping off her stroke rate.
Stroke Index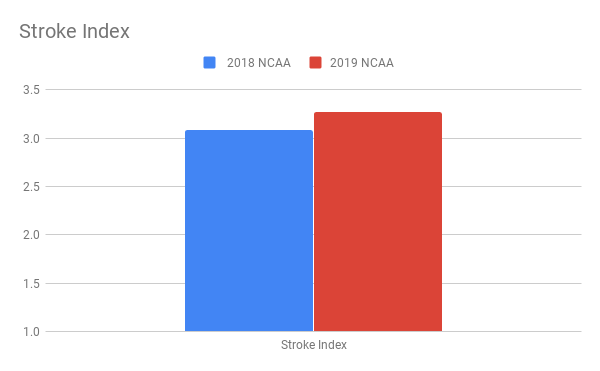 Louise's higher DPS accompanied by faster overall speed means she improved her stroke efficiency from 2018 to 2019. In both years, she had one of the highest stroke index in her heats.
Transition Metrics
Turn Time and Time Underwater

Louise improved her turn time slightly in 2019 but in both years, she had one of the slowest turns on average.
She also registered longer times underwater this year, on average spending 0.2 seconds more on her underwaters.
Takeaways
Training your strengths (not just weaknesses) gives you a better advantage in races
Louise's strategy in both years was the same - she went for a higher DPS and slower stroke rate. Her bronze in 2018 showed that this was a good strategy for her. This year, she improved her DPS even more, and as a result, lowered her time significantly and moved her to the top spot.
Efficiency is important, especially in tough races
The 200 fly is not an easy event. In an event such as this, inefficient strokes can quickly lead to fatigue. In 2019, Louise stroked more efficiently from the start of her race, giving her enough power throughout the entire distance to maintain her faster speed and win the gold.